TreeWorks employs Canberra's leading tree surgeons, arborists, horticulturists and vegetation management specialist.  We offer our customers a full range of tree services in the Canberra, Queanbeyan, Yass, Goulburn, Sutton, Bungendore, Cooma regions.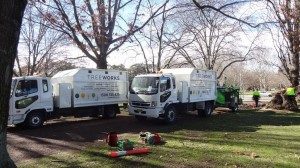 TreeWorks working in the Parliamentary triangle, Canberra
We undertake residential and commercial tree work including powerline clearing for electricity companies, tree work contracts for facilities maintenance companies, real estate agencies, schools, developers, embassies and government contracts. Our tailored quality assurance and efficiency processes cater for all our customers' needs including large portfolios of properties.
Our tree surgeons can provide a range of tree services including diagnostic reporting and risk assessments on your trees. We can also advise how to get your trees looking their best all year round.
TreeWorks is fully insured and has an ACT Government Industrial Relations and Employment Certificate. Prior to commencing work a site-specific risk assessment is carried out and all employees are rigorously trained in Safe Work Method Statements. Our number one priority is regular and rigorous safety training and capacity building for our staff to ensure works are carried out safely and meet all our customer needs.
TreeWorks is a fully licensed & insured tree removal company and a member of Arboriculture Australia. Our climbers are fully trained and some of our arborists have over 25 years experience in large scale tree surgery and removals.
Our staff have certificates in:
Certificates, 2, 3, 4 and Diploma (Level 5) in Arboriculture
Certificates 2, 3 and 4 in Horticulture
Certificate 3 in Conservation Land Management
Certificate in Vegetation Management (in close proximity to power lines)
Certificate in Climbing and Rescue Aloft
Certificate in Chainsaw
Certificate in Elevated Work Platform
Certificate in First Aid
AQF2 / Chemcert certification in chemical use
You can choose whether you would like any tree material taken away or  mulched for use in your garden.
Have a look at the different services we perform or call 1300 135 835 to make an appointment.