A word of warning about tree loppers…this is not a term the arborist industry approves of.  Why? because it's associated with a cutting technique which does more harm than good to a tree.  It's a bit like going to a surgeon who calls himself a butcher.
Tree lopping is an unacceptable practice which damages the health and visual appeal of a tree and should never be recommended as a solution.  In the short term this sends the tree into great stress and in the long run it results in a making a tree dangerous. Tree lopping makes the tree look ugly by destroying it's natural form leaving it looking deformed and mutilated. If the tree manages to survive tree lopping it won't be long before it requires further work.
When you get a quote for tree work be sure the company is qualified to do the job and is properly insured.  Make sure the tree lopper or any tree services provider has a proven track record and is covered if something goes wrong.  Avoid using any company that recommends tree lopping as a solution for your tree.  You have a lot of money tied up in your property and you don't want to end up with an ugly or dead tree.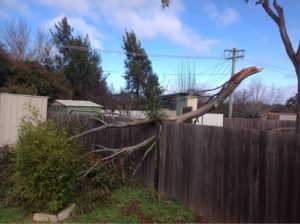 Be wary of cheap quotes for tree work. 
Tree work is high risk.  Consider this checklist before you contract tree services:
Insurance
Is your tree company adequately insurance so you are covered for personal and property damage?
Can they show you a current insurance policy?
TreeWorks has $20M public liability insurance and has a workers compensation insurance policy.
Are their workers employed under an industrial award?
Do they pay employees their full entitlements, i.e superannuation, leave entitlements?
Do they hold an Industrial Relations and Employment Certificate?
Training
Tree work requires a high degree of training to meet nationally recognised safety standards and to avoid harming the tree or property.
Do their tree workers hold relevant licences / tickets for the task they are carrying out?
If you receive a powerlines notice from ACTEWAGL only accredited ACTEW tree surgeons should be engaged.
All tree work should be carried out according to Australian Standard 4373-2007 standard.
Tree surgeons should have Certificate 2 in Arboriculture qualification.
Only an arborist with a Certificate 4 (or higher) in Arboriculture can provide adequate and safe advice for you.
Chainsaw operators must have a chainsaw certificate.
Climbers should have a climbing certificate and rescue aloft certificate
Check a company's reviews online to see if their customers are happy with the work.
Risk Assessment
Has the company quoting done a written risk assessment before commencing work? You can request to see it.
Prior to commencing any job TreeWorks assesses each site for potential risks and identifies steps to minimise them.
Membership
Check the company is a member of a Arboriculture Australia
If you have any concerns about the qualifications of a tree company call Arboriculture Australia.