One of the best things about living in a colder climate is the autumn colours that glow around Canberra, Yass and Bungendore from April through till June.  Along the Parliamentary Triangle, Parliament House, Dunrossil Drive to Weston Park and Yarralumla you can't miss the colours of autumn.
If it's autumn colour you are after now is the time to go to the nursery and see them on show.  Or walk around your neighbourhood and pick up some leaves and take them to the nursery to identify.  We love Heritage Nursery in Yarralumla for their choice of plant stock and for their staff who are knowledgeable and keen to help. If you are feeling more adventurous nothing beats a trip to Winterhill Tree Farm in Canyonleigh – they have a great website too.
Before you purchase any trees think about the mature size and spread of the tree and whether you are looking for shade in summer, flowers in spring or something that is drought hardy.  Give your tree a good water a couple of hours before planting.  Dig a hole twice the size of its pot.  Use water crystals to increase the amount of water available to your tree.  Add a bit of compost.  Remove the tree from its container and tickle its roots so they are loosened up a bit from the soil – this is especially important if they are wrapped around tightly.  Place the tree in the middle of the hole.  Make sure the collar or base of the tree is level with the ground.  Fill the soil back into the hole.  Water the hole and add some Seasol.  Mulch 75mm high around the base extending out as far as the widest branch – but leave 5cm around the tree's trunk so it doesn't rot.  Stake the trunk if it looks like it's wobbly or might need some help to grow straight.
Our top ten autumn trees for 2018
There are so many great autumn trees it's impossible to choose a favourite.   We've selected the autumn trees we know are drought hardy once established, frost hardy and have appeal beyond autumn.  Here's our top 10 picks for Canberra and the local region to get some colour in your backyard:
Manchurian pear / Pyrus ussuriensis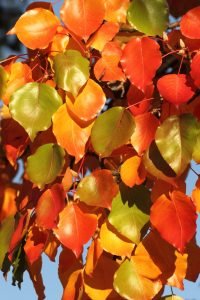 Autumn leaves bronze – scarlet
Flowers – white
Size -medium size tree
Shape – conical
Growth rate – fast
Pin Oak – Quercus palustris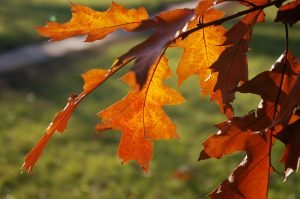 Autumn leaves – scarlet red
Flowers –
Size – large size tree
Shape – pyramid
Growth rate – fast
Chinese Pistachio – Pistacia chinensis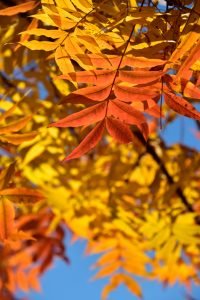 Autumn leaves – yellow – orange & red
Flowers – small white
Size –  medium size tree
Shape – round headed
Growth rate – medium
Crepe Myrtle – Lagerstroemia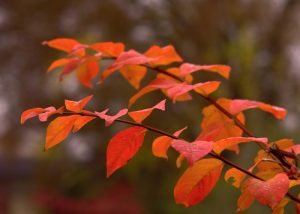 Autumn leaves – bronze – red – yellow
Flowers – variety colours
Size –  small size tree
Shape – vase
Growth rate – medium
Japanese Maple – Acer palmatum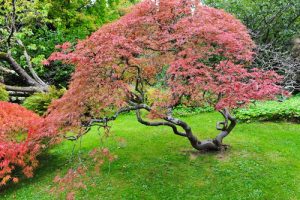 Autumn leaves – bright orange and red
Flowers –
Size –  small size tree
Shape – round
Growth rate – slow
Golden Ash – Fraxinus excelsior Aurea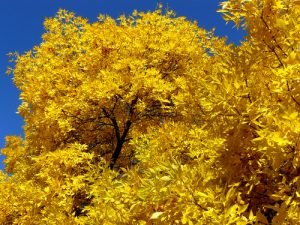 Autumn leaves – bright yellow
Flowers – tiny purple
Size –  medium size tree
Shape – columnular
Growth rate – medium
Persian Witchhazel – Parrotia persica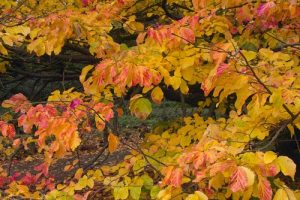 Autumn leaves – yellow, orange and crimson
Flowers – yellow
Size –  small size tree
Shape – vase
Growth rate – slow
Persimmon Fuyu – Diospyros kaki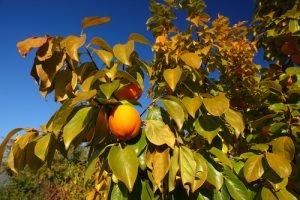 Autumn leaves – reds, yellow and bright orange
Flowers –
Size –  medium size tree
Shape – vase
Growth rate – medium
Guelder rose – Viburnum opulus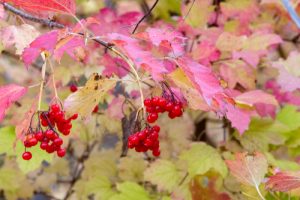 Autumn leaves – reds and orange
Flowers – magnificent white hydrangea style
Size –  large size shrub
Shape – round
Growth rate – medium
Sugar Maple – Acer saccharum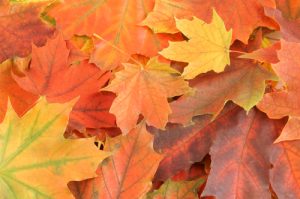 Autumn leaves – reds, yellow and orange
Flowers –
Size –  large size tree
Shape – oval
Growth rate – medium