Mulch Canberra
When we remove branches and trees we can mulch them on the spot and leave you with a pile of wood chips to use on your garden.
Mulching conserves moisture, prevents erosion, moderates soil temperatures, and adds organic matter and nutrients to the soil. Woodchips are slow to break down, so they do not have to be replaced as often as some other organic materials.
TreeWorks can also supply top quality, organic, and seasoned mulches and composts that consistently maintain our quality standards.
We can also install the wood chips for you.
Contact us to organise your mulch.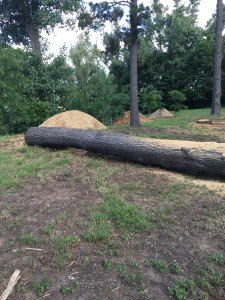 Mulch from trees in Bungendore