Spring is coming and it's time to think about what impact your trees are having on your solar panels.  Unfortunately, trees can significantly reduce the performance of them.  If you've invested a lot of money installing solar panels on your roof you want to make sure you maximise their electricity production particularly in the late afternoon and early morning when power is more expensive.
If you imagine your solar system as a 'string' of panels then shade from a tree can act like a knot which prevents the flow of energy. If just one of the cells is shaded it becomes a kink in the system and the output can drop by 30-40%.
In most cases you don't need to remove the trees near your solar panels. Just call TreeWorks and we can trim back the branches blocking sunlight from hitting solar panels. This is particularly important as foliage becomes more dense during spring and summer.
It's not just shadows from trees and falling leaves that impact the potential of panels but also dust and bird droppings.   Cleaning your panels at least twice a year can increase their efficiency by around 5%.
If you've gone to the trouble and expense of installing solar you definitely want to maximise their output.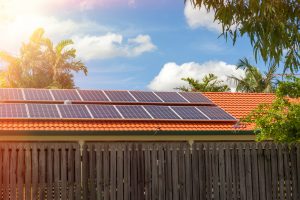 Tips for solar panels and trees
Think carefully about where you plant trees and how large they will grow
Site your panels away from tree shading
Trim back branches that shade panels
Clean panels to remove dust, leaves and bird droppings