In the world of gardening, a symbiotic relationship exists between trees and a fascinating group of organisms known as mycorrhiza. Mycorrhiza, derived from the Greek words "myco" meaning fungus and "rhiza" meaning root, refers to the mutually beneficial association between tree roots and specialised fungi. This remarkable partnership holds numerous benefits for trees, enhancing their growth, vitality, and resilience. For Canberra gardeners seeking to create thriving urban landscapes, understanding the advantages of mycorrhiza is key. In this blog post, we will explore the benefits of mycorrhiza for trees and delve into how gardeners in Canberra can harness this natural synergy to their advantage.
Enhanced Nutrient Uptake: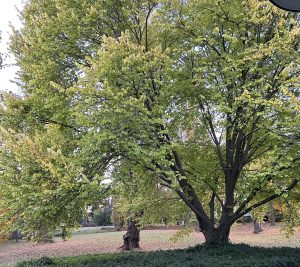 Mycorrhizal fungi form an extensive network of hyphae (fine fungal threads) that extend far beyond the tree's root system. These hyphae act as extensions of the tree's root system, effectively increasing its surface area for nutrient absorption. As a result, mycorrhiza facilitates the uptake of essential nutrients such as phosphorus, nitrogen, and micronutrients, even in nutrient-poor soils commonly found in Canberra. This improved nutrient acquisition contributes to healthier and more vigorous tree growth.
Improved Water Efficiency:
Canberra's climate, characterised by hot summers and relatively dry conditions, often poses challenges to tree survival. However, mycorrhizal fungi play a crucial role in enhancing a tree's ability to cope with water stress. The fine hyphae of mycorrhizal fungi act as extensions of the tree's root system, effectively increasing its capacity to access water from a larger soil volume. Moreover, mycorrhiza promotes the development of root structures that are better adapted to water uptake and retention. By facilitating water efficiency, mycorrhiza ensures that trees in Canberra gardens can withstand periods of drought and thrive.
Disease Resistance and Stress Tolerance:
Mycorrhizal associations significantly bolster a tree's defence mechanisms against pathogens and environmental stressors. The symbiotic fungi form a protective barrier around the tree roots, making it more difficult for harmful organisms to invade. Additionally, mycorrhizal fungi produce antimicrobial compounds that inhibit the growth of pathogenic microbes, reducing the risk of diseases in trees. By fortifying the immune system of trees, mycorrhiza helps them combat diseases and enhances their ability to withstand adverse environmental conditions such as extreme temperatures and pollution.
Soil Structure Improvement:
In Canberra's urban environments, soil compaction and degradation are common challenges. Mycorrhizal fungi contribute to improving soil structure and health. The extensive network of hyphae produced by the fungi acts as a binding agent, enhancing soil aggregation and stability. This promotes better drainage, aeration, and nutrient circulation in the soil, creating an optimal growing environment for trees. By fostering healthy soil conditions, mycorrhiza creates a foundation for strong and resilient trees in Canberra gardens.
Plant Establishment and Growth Promotion:
For gardeners looking to establish new trees or revitalize existing ones, mycorrhiza can be a valuable tool. When introducing mycorrhizal fungi during tree planting or transplanting, gardeners provide a head start for the trees. The symbiotic fungi establish connections with the young roots early on, kickstarting nutrient uptake, and supporting rapid growth. This early inoculation with mycorrhiza aids in establishing healthy root systems, leading to robust and long-lasting trees.
Conclusion:
Mycorrhiza represents an invaluable ally for Canberra gardeners aiming to create flourishing urban landscapes. By harnessing the power of this remarkable symbiotic association, trees can experience enhanced nutrient uptake, improved water efficiency