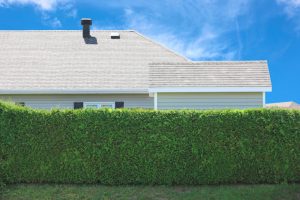 Our experienced team at TreeWorks can order and plant your hedges at any height to create instant privacy.   We have extensive tree planting expertise and regularly work with the ACT Government, the National Capital Authority, and at rural and domestic sites around Canberra, Yass, Bungendore, Jerrabomberra, Sutton etc.  Give us a call on 1800 873 343 if you would like us to hedge your garden.
Benefits of hedges
Hide ugly buildings, sheds
Hide neighbours
Attract birds
Add security
Reduce noise
Add real estate value
Reduce temperature
No glare
Here's a list of our go-to plants for Canberra for anyone wanting hedging in a hurry.
1. Cherry Laurel (Prunus laurocerasus)
Birds love this dense fast-growing evergreen for cool climates. Thick glossy dark green leaves, small white flowers followed by black berries. Shade tolerant. Excellent dense hedge. Prefers well-drained moist soil.  Grow in full sun, frost hardy, drought resistant. Height: 6m
2. Portugese Laurel (Portugese laurel)
Moderately fast, dense bushy evergreen shrub or tree with red stalked glossy dark green leaves. Fragrant white flowers in late October/early November. Excellent hedging plant, can be clipped to a formal shape or left unclipped for an informal hedge. One of our favourites.  Height: 5m
3. Evergreen Ash (Fraxinus griffithi)
A quick growing, frost hardy, evergreen tree. Small white flowers in mid spring followed by white winged seed. Very hardy and tolerates moderate wind exposure. Prefers a moist soil. Suitable for screen and windbreak plantings. Full sun to light shade. Height: 6m
4. Green Pillar Pittosporum (Pittosporum Green Pillar)
Fast-growing evergreen shrub. Likes to be kept moist in drier conditions but not wet. Can be clipped or kept loose as an informal hedge. New growth is fresh apple green colour. Prefers sun to part shade. Height: 2m
5. Leylandii Leighton Green Cypress (Cup. leylandii Leightons Green)
Very fast growing – 1 metre a year.  Hardy evergreen, dense tree of pyramidal habit. Open growth when young but thickensl with age. Popular for hedging & windbreaks. Height: 20m
6. Viburnum tinus (Laurustinus)
Moderately fast growing, hardy evergreen bushy shrub. Small pinkish white flowers throughout late autumn to spring. Good foliage from the ground up making it an excellent hedge or screen plant.  Tolerates wind, light shade, drought and frost. Height: 3m
7. Photinia (Photinia robusta)
Fast growing, evergreen with large leaves which are bronze red whilst young. Grows fast upright then fills out. Good as a background hedge with small white flowers. Hardy and copes with most soil conditions.Height: 6m
8. Callistemon
Callistemon (bottlebrush) varieties are a good choice for informal hedging because they are hardy, drought and frost resistant and attract the birds.  They range from small shrubs to varieties reaching around 3m.  Callistemons have beautiful flowers and will tolerate full sun and part shade.
TreeWorks is a leading tree services business operating in Canberra, Monaro, and Southern Tablelands. We are a fully licensed, ACTEW accredited & insured tree surgery company and a member of Arboriculture Australia. Our climbers are appropriately trained and some of our arborists have over 25 years experience in large scale tree surgery and removals. Call 1800 873 343 or book online for a free on-site tree health and safety inspection.  information.