As autumn arrives in Canberra, the city's streets and gardens transform into a mesmerising blend of vibrant hues. However, with this picturesque season comes the inevitable task of dealing with the copious amounts of fallen leaves. Rather than discarding them as waste, why not consider composting? Composting not only helps gardeners manage autumn leaf litter effectively but also contributes to a healthier garden and a more sustainable environment. In this blog, we'll explore various composting methods for Canberra gardeners to make the most of their autumn leaves. Following is a list of composting solutions:
Backyard Leaf Composting: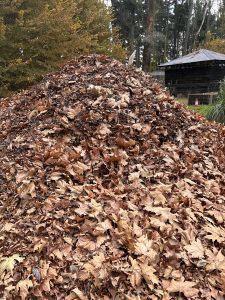 Backyard composting is an accessible and efficient way to manage autumn leaves. Start by creating a designated compost pile or using a compost bin. Shredding the leaves with a lawnmower or a leaf shredder can speed up the decomposition process. Layer the shredded leaves with other compostable materials, such as kitchen scraps, grass clippings, and small branches. Regularly turn the pile to ensure proper aeration and moisture distribution. Over time, the leaves will break down into nutrient-rich compost that can be used to enrich your garden soil.
Leaf Mulching:
If you prefer to preserve the aesthetic appeal of your garden while benefiting from the nutrients of fallen leaves, consider leaf mulching. Instead of collecting and composting the leaves, use a mulching mower or a mulching attachment on your regular lawnmower to finely shred the leaves in place. The shredded leaves will act as a protective layer, conserving moisture, suppressing weeds, and gradually decomposing to enrich the soil. This technique is particularly suitable for shrub beds, flower borders, and around trees.
Compost Bins and Tumblers:
Compost bins and tumblers offer convenient and controlled environments for composting autumn leaves. These containers help contain the leaves, reduce odor, and accelerate the decomposition process. When using compost bins, layer the leaves with other organic materials, ensuring a good balance of carbon-rich (leaves) and nitrogen-rich (kitchen scraps, green waste) components. Regularly turn or rotate the bin/tumbler to provide oxygen and aid decomposition. Compost bins and tumblers are especially beneficial for gardeners with limited space or those who prefer a neater composting system.
Vermicomposting:
For Canberra gardeners seeking an alternative composting method, vermicomposting, or worm composting, is an excellent choice. Create a worm bin using a shallow, well-ventilated container filled with bedding material like shredded leaves, newspaper, or cardboard. Introduce red wriggler worms, known for their excellent composting abilities. Add a mixture of shredded leaves and kitchen scraps regularly, ensuring the bin is moist but not waterlogged. The worms will consume the organic matter, transforming it into nutrient-rich worm castings. Vermicompost can be used as a potent fertilizer for potted plants, seedlings, or garden beds.
Community Composting:
If you have an abundance of autumn leaves but limited composting space, consider community composting initiatives. Canberra has several community gardens, local composting projects, or compost drop-off points where you can contribute your fallen leaves. These initiatives often transform organic waste, including autumn leaves, into high-quality compost that benefits the wider community. Reach out to local gardening groups or check with your local council to find out more about community composting opportunities near you.
Conclusion:
Autumn leaves need not be viewed as a burden or waste. With the right composting techniques, Canberra gardeners can transform this seasonal abundance into valuable organic matter that nurtures their gardens. Whether through backyard composting, leaf mulching, compost bins, vermicomposting, or community composting, there are various ways