TreeWorks is EVOENERGY accredited to safely perform tree work near power lines.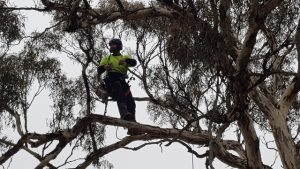 If your trees or shrubs are closer than 1.5 metres to a power-line you will receive a notice from Evoenergy to clear trees away from power-lines on your property.
TreeWorks can provide you with a free quote for this work. You must use an Evoenergy-accredited tree surgeon to perform the work as they are authorised and trained to work close to power lines.
In most cases, the minimum clearance of trees from powerlines is 1.5 metres. For higher voltage powerlines the minimum clearance increases. If you are not sure of the voltage of powerlines, call Evoenergy's general enquiries number on 13 23 86.
When trimming trees allow for a three-year regrowth. To keep the costs of trimming down you should trim trees to at least 2.5 metres from powerlines. The space vertically above the powerlines should also be kept clear of trees at all times. In bushfire-prone areas the minimum distance should be increased by at least 0.5 metres.
Canberra property owners and renters are responsible for the keeping trees and shrubs away from powerlines and utility infrastructure including power poles, sub-stations, meters and underground cables. Vegetation close to powerlines can cause blackouts, electrocution and fire. For more information read Evoenergy's Trees and Powerlines page.
TreeWorks is a leading tree services business operating in Canberra, Southern Tablelands and Southern Highlands.  We are a fully licensed, Evoenergy accredited & insured tree surgery company and a member of Arboriculture Australia. Our climbers are fully trained and some of our arborists have over 25 years experience in large scale tree surgery and removals. Call 1300 135 835  or contact us.